Last week, on a warm spring evening in beautiful Kelowna, BC, several members of our medical team gave presentations to an audience of over 70 physicians, mental health professionals, pharmacists, and laypeople. This was an event where we shared about the science of ketamine and the unique approach to ketamine-assisted therapy that we're offering at our EntheoMed Ketamine Suite.
The event opened with an engaging presentation by our Chief Medical Officer, Dr. Francois Louw. Dr. Louw set the stage for the event by providing a broad overview of the exciting research on the therapeutic potential of psychedelic drugs such as psilocybin, and 'quasi-psychedelics' such as ketamine and MDMA. He described the clinical trials that have been conducted to date and provided a brief overview of research on how these drugs — at the level of the brain and mind — can induce therapeutic experiences and lasting effects. He also outlined our plans at EntheoTech to conduct clinical trials of our own with psilocybin-assisted therapy, and to provide psilocybin and MDMA therapy once regulations change in the coming years (assuming clinical trials continue to show strong results).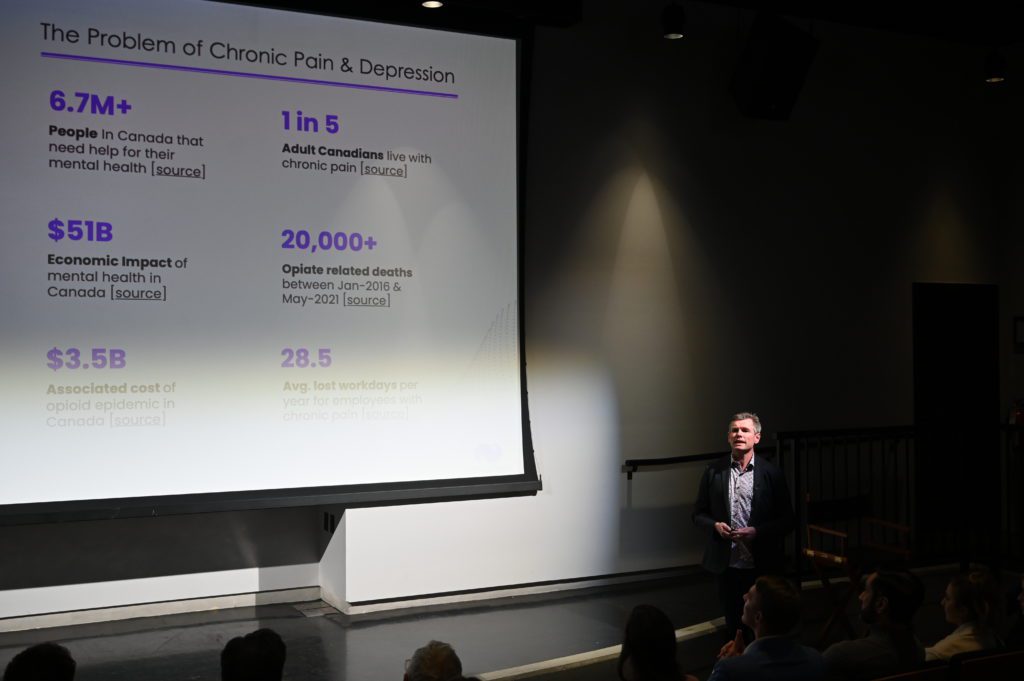 Next up was Dr. Anita Sanan, Medical Director at the EntheoMed Ketamine Suite. Her talk was on ketamine and provided a broad overview of this drug, while honing in on the very practical details relevant to clinicians that might be interested in referring individuals to the clinic. She described different ways of taking ketamine and how long the experience lasts for each, how long ketamine stays in your system after your experience, the effects ketamine has on your nervous system, the types of people who should and shouldn't take ketamine, and the associated risks.
Following her was Manesh Girn (i.e. yours truly!), the Chief Research Officer at EntheoTech. My talk was more on the technical side, and dove into the neurobiological mechanisms underlying the antidepressant effects of ketamine. In other words, I covered the effects ketamine has on brains that are related to its ability to reduce depression symptoms. After pointing out how psychological mechanisms are also important, I described how ketamine essentially reverses the negative effects that depression has on the brain. I detailed how depression is deeply related to chronic stress, and how chronic stress causes certain brain areas to shrink and function less well. Ketamine, as I described, boosts neuroplasticity in the brain in key regions related to our ability to think clearly and regulate our emotions (such as the prefrontal cortex). It even helps restore normal functioning in the exact brain circuits most damaged by chronic stress. This shows that ketamine's antidepressant effects really make sense in light of past brain research on depression.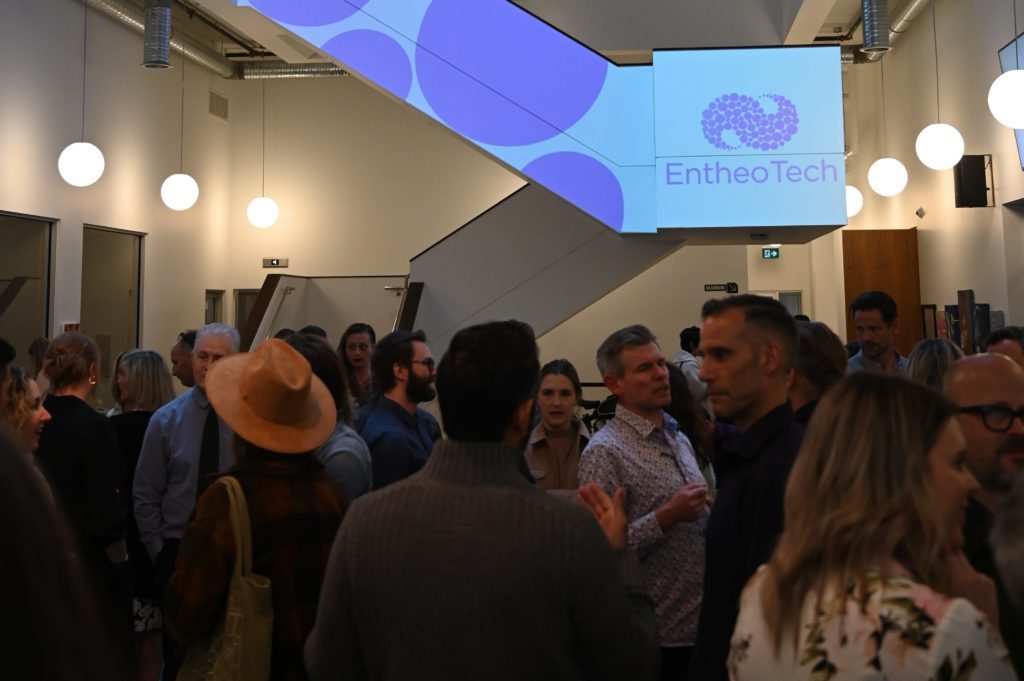 Second last for the night was our Head of Psychiatry, Dr. Michael Ocana. Dr. Ocana is the visionary behind the Odyssey Method described in previous blog posts. In his talk, as you might expect, he dove into the details of the Method and how we apply it in the context of ketamine. He emphasized how most approaches to ketamine devalue the psychological experience it induces in patients, and how these approaches reduce people to brains without taking into account the many other psycho-spiritual-social factors that also play important roles in their mental health. He described the holistic and patient-centred ketamine-assisted therapy approach of the Odyssey Method and detailed the process of bringing patients into our clinic from intake up until post-treatment follow-up, highlighting how we emphasize practices such as mindfulness, mindful movement, and breathwork which synergize with ketamine and help patients maintain their positive benefits.
Finally, the evening ended with a presentation from Dr. Zach Walsh, Professor of Psychology at UBC Okanagan and Principal Investigator with EntheoTech. He covered a recent comprehensive review paper he wrote with a team of collaborators, covering all the therapeutic applications of ketamine that have been studied to date. This review covered 83 research reports with ketamine and 33 randomized placebo-controlled clinical trials, and is the most comprehensive review to date. They found that results were most impressive and robust for major depressive disorder, suicidal ideation, and also bipolar disorder. Ketamine was found to induce rapid and strong (but typically short-lived) reductions in symptoms for these three disorders. In addition to these disorders, a smaller but promising body of evidence suggests that ketamine might also be effective for anxiety disorders, post-traumatic stress disorder, obsessive compulsive disorders, and multiple substance-use disorders including for alcohol, cocaine, and opioids. The research Dr. Walsh outlined suggests that ketamine has strong potential across a range of disorders — but more research is needed.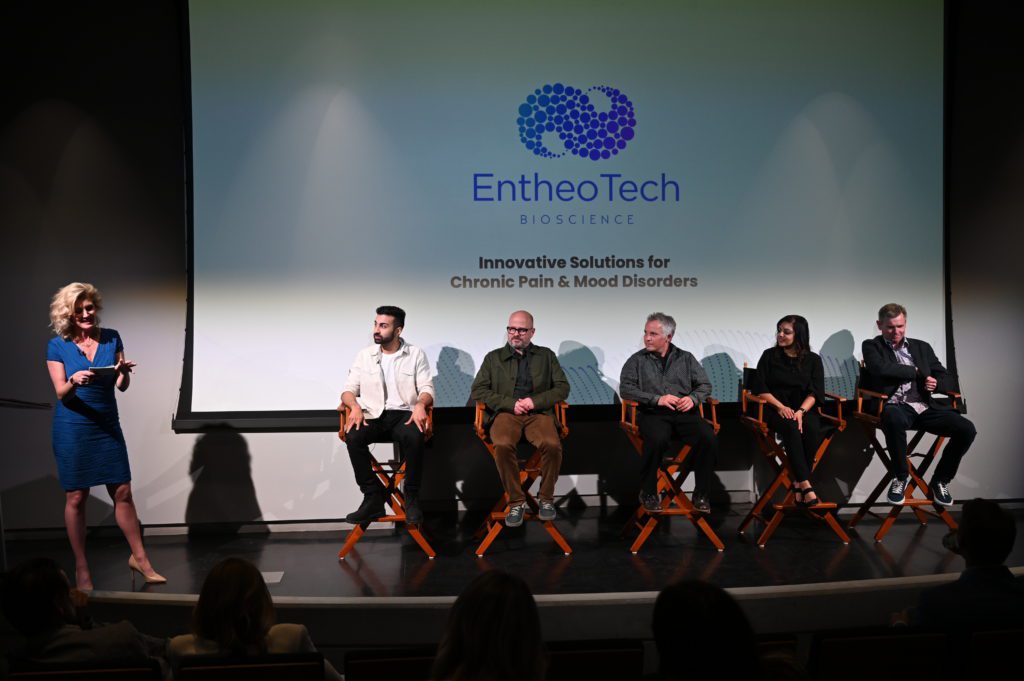 The event was moderated by Sonia Stringer: a professional speaker, business and life coach who has been immersed in transformational work for over 25 years. Sonia started her career as a National Sales Trainer with peak performance expert Anthony Robbins, during which she delivered workshops and keynotes for over 800 organizations throughout the United States and Canada.
All in all, this was a very successful event that brought together many bright minds and featured a lot of mingling and discussion between and after the talks. No doubt, many were relieved to finally attend an in-person panel discussion! This event helped spread word of the innovative treatment approaches that we are offering at EntheoTech and it is our hope that it helped open the minds of some who had been unduly dismissive of these promising cutting-edge treatments.